AWKWARD
Cashier at Wendy's: "What are you wearing? It smells so good!"
Me: "Umm...spray tan...?"
Cashier: "What scent of spray tan? Is that why you're so dark?"
Me: "I have no idea, and yes."
Cashier: (in a very sad sounding voice) "I wish I could tan..."
Sometimes I wonder if people own mirrors...
The old lady I saw in the airport reading Shades of Grey.
Being locked IN my hotel room. You read that correctly, I was locked inside of my hotel room! I had to call the front desk for them to send maintenance. A new door handle and an hour later, it was fixed. haha
AWESOME
Christmas in July. Go sign up!!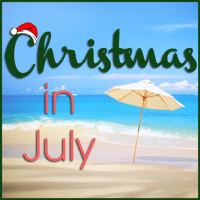 When people bring sweets to work for someone's birthday. Yesterday, I had oreo cake, peach bread, and chocolate covered strawberries. YUMMY!
Receiving an email telling me to apply for MBA Graduation. Yay! I can see the end!!
Two Truths and a Lie Tuesday! Don't forget to link-up next Tuesday!